#KROHNEInsights #1to1
KROHNE Insights 1to1
Live 21st Feb - 11th Mar
KROHNE Insights 1to1
Live 21st Feb - 11th Mar
COVID-19 has impacted many events in the last 18 months. To overcome this, KROHNE has decided to offer our insights and expertise digitally, exactly as if you were physically attending a fair. We are offering you face to face access to our specialists.

KROHNE Insights 1to1 is a fair built for you in our Duisburg headquarters in Germany. You can talk to a specialist or a contact you already know at KROHNE. The meeting will take place via video conference, so no need to travel.

You can freely choose the areas you would like to discuss: Trends such as digitalization, plant safety or IIoT? Or simply get up to speed with what's new at KROHNE? Or do you have a specific measurement challenge that you would like to discuss in detail?

KROHNE Insights 1to1 should cover all your needs whichever industry, product or measurement solution. Just register and we will contact you directly to schedule your tailor-made session.
Some of the things we can cover together:
Industry trends:
Digital field communications: industrial Ethernet, Ethernet-APL, fieldbuses
IT/OT convergence for greenfield and brownfield: NAMUR Open Architecture (NOA), PA-DIM, FDT, FDI
Industry 4.0 and the IIoT: mobile apps and cloud solutions for smart commissioning, verification and monitoring
FOCUS-ON: An intelligent process node for direct flow and process control in the field
Plant safety and security: Functional safety (SIL), explosion protection and cybersecurity
Industry specific:
Chemical: Automation solutions including MTP, chemical feed systems, Fuel Gas
Food: Hygienic measurement solutions, measurement of highly viscous products and media with entrained gas
Oil & Gas: Complete measuring solutions for Gas, LNG, Crude Oil and Hydrogen
Water & Wastewater: Multi parameter measuring technology, Instrumentation for partially filled pipes and systems for process monitoring and quality control
Power: Fuelgas skids, geothermal steam measurement, complete instrumentation for conventional power plants
Marine: Fuel consumption and emission monitoring on vessels, ballast water treatment, bunker verification.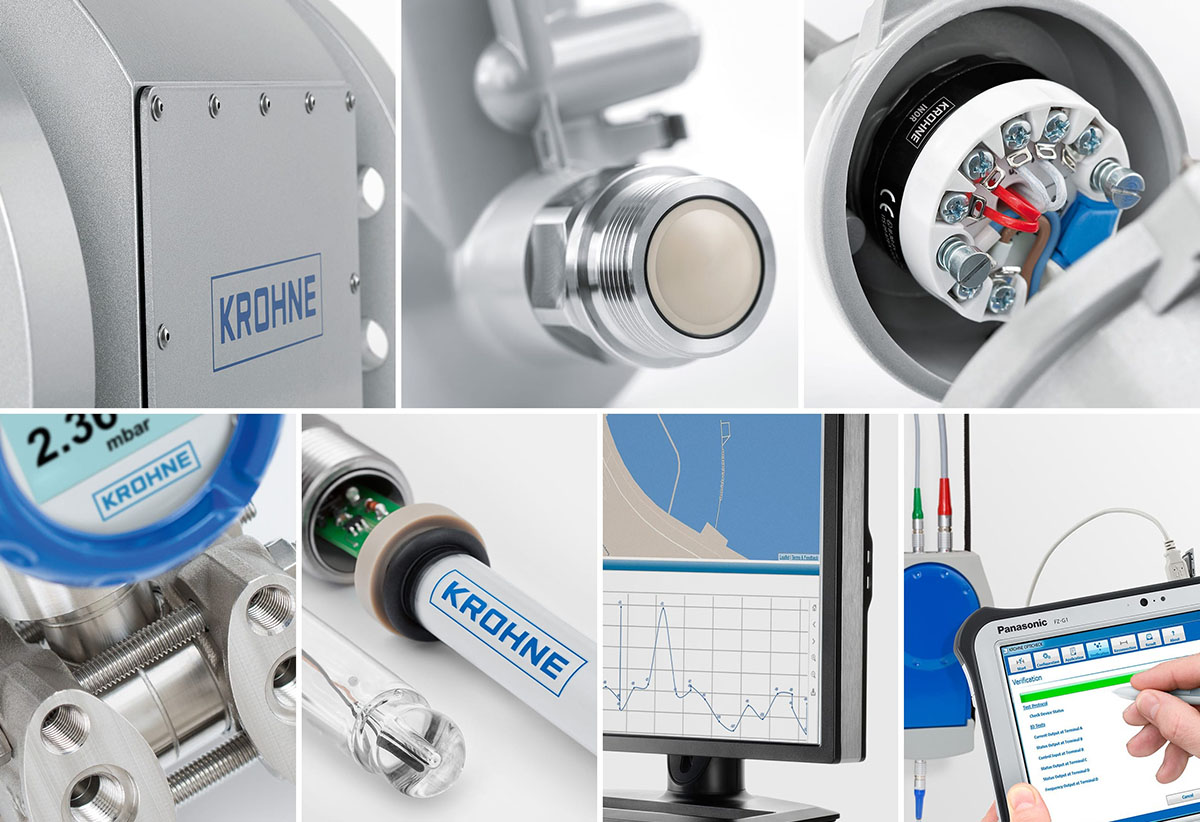 KROHNE Group
KROHNE is your reliable partner for process instrumentation and automation. As our client, you benefit from our ability to solve your applications with matching measurement solutions; we offer a complete product portfolio, industry specific system solutions and complementary services for instrumentation projects of any size.